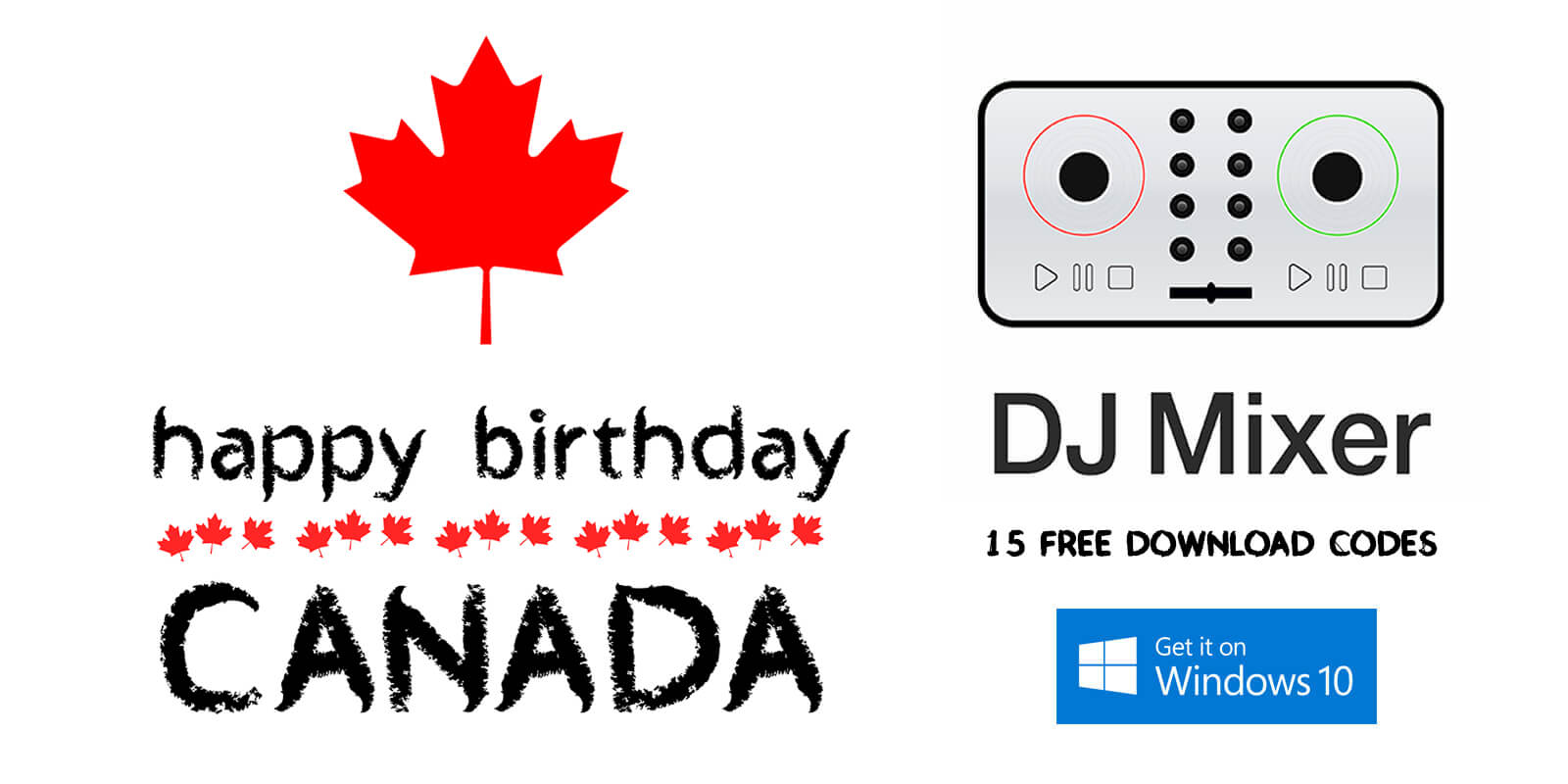 Happy Birthday Canada! <3
The land of the free. View the Happy Birthday Canada code on codepen and download the code on github.
Enjoy the lyrics to Canada's national anthem below, when ready use one of the free codes below to download DJ Mixer App on Windows 10 for free!
O Canada!
Our home and native land!
True patriot love in all thy sons command.
Car ton bras sait porter l'épée,
Il sait porter la croix!
Ton histoire est une épopée
Des plus brillants exploits.
God keep our land glorious and free!
O Canada, we stand on guard for thee.
O Canada, we stand on guard for thee
Windows store app link: https://www.microsoft.com/store/apps/9NBLGGH4T3J1 Visit my Facebook page to use the Canada Day themed frames for your Facebook profile. https://www.facebook.com/EntonBibaMusic/ These 15 codes will be available until they are used on a Windows 10 device.
Available codes for Canada's 150th Birthday
H2QK4-3V9V9-R7WY2-T3RGM-CYYWZ
GKHQY-RWH6K-6KWH7-F27XM-9HVCZ
CH7C9-JGWT9-JCV9D-MCKHD-Q7V3Z
7RDTF-RFWY2-PVCR2-49P2M-2J9FZ
JGP7Y-CJT3G-RCYDK-G6HDV-CJ2XZ
FX926-J2YPM-PDT2T-7QT7X-MWJ2Z
6KCX3-F667Q-4C4W4-4VVYY-G7FMZ
FFTTM-3MQ7Y-J3YPC-KQ97G-RRPHZ
32GCQ-CWQQP-3PRJQ-TC24T-2KKRZ
7HDF3-GFQ6X-GGPWK-X3D62-RKRJZ
7M7PW-G9J39-JMK27-CDF6W-4FDWZ
XG3DK-M7JQ6-KW2X9-FJVQ2-XDGHZ
39JRD-G66CW-WGTTD-MHHHM-GDTCZ
VRD36-FCCMT-9MHHM-YQH96-Y767Z
H4674-W23WT-4W4QG-WM7QT-GHQVZ
Links: DJ MixerFlag Background Code